Model No.: KDH Series
KDH Series
FEATURES

1. Pumps are manufactured from the four materials(FRPP, CFRPP, CPVC, PVDF) to ensure resistance
to high heat and corrosion.

2. Dry Vapor seal (3~10HP):ensure to prevent pumps and bearings form being etched by chemical
gas and prolong the using life of pump.

3. For etching spraying equipments, cooling circulating and be used with filter.

4. One piece injected without welding and in-outlet moveable flanges lead us to install and maintain
easily.

5. Front covers without screws design have unique high head, high pressure and high efficiency and
apply to all kinds of environments.

6. Pumps are no damaged in drying running.
MODEL INDENTIFICATION
| | |
| --- | --- |
| 1.MODEL: | KDH |
| 2.IN-OUTLET: | 50-2" 65-2.5" 80-3" |
| 3.SPECIFIC WEIGHT: | VK-1.1 VP-1.4 |
| 4.POWER: | 3, 5, 7.5, 10HP |
| 5.FREQUENCY: | 5-50Hz 6-60Hz |
| 6.RUBBER: | N-NBR E-EPDM V-VITON |
| 7.MATERIAL: | F-FRPP C-CFRPP A-CPVC P-PVDF |
| 8.NOTES: | H-HIGH HEAD |
SERIES SPECIFICATION
MODEL

CURVENO

IN-OUTLET(mm)

HP

FLOW(L/Min)

HEAD

WEIGHT(kg)

IN

OUT

VK

VP

VK

VP

Frequency:50Hz

KDH-50VK(P)-35
J
65
50
3
350
300
12
12
41
KDH-50VP-55
K
65
50
5
-
400
-
16
55
KDH-65VK-55
L
80
65
5
550
-
15
-
55
KDH-65VK(P)-7.55-H
M
80
65
7.5
400
300
30
28
95
KDH-65VP-105-H
N
80
65
10
-
400
-
30
106

Frequency:60Hz

KDH-50VK(P)-36
J
65
50
3
350
12
300
12
41
KDH-50VK(P)-56
K
65
50
5
550
400
15
16
55
KDH-65VK-7.56
L
65
80
7.5
600
-
20
-
95
KDH-65VK(P)-7.56-H
M
80
65
7.5
400
300
30
28
95
KDH-65VP-106-H
n
80
65
10
-
400
-
30
106
PERFORMANCE CURVE CHART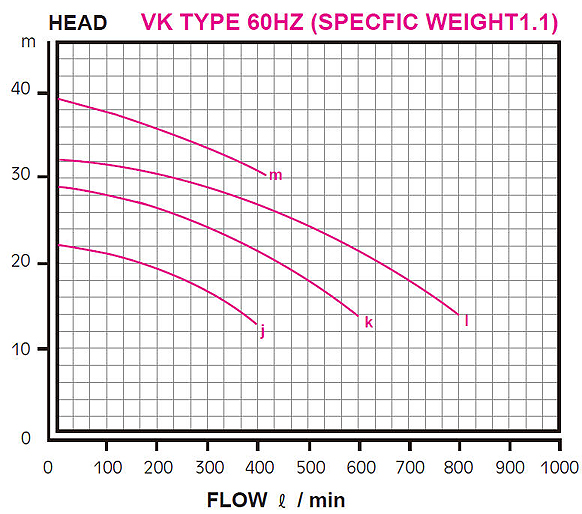 CONSTRUCTION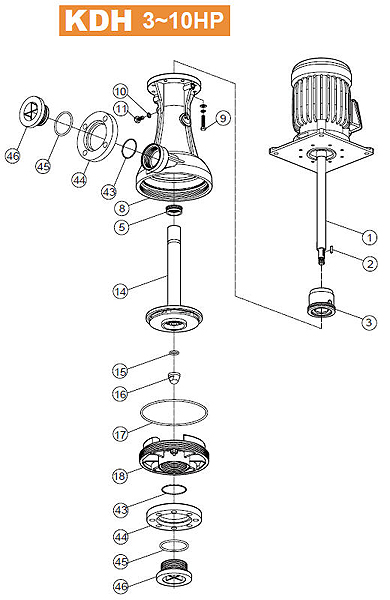 | NO | DESCRIPTION | MATERIAL | NO | DESCRIPTION | MATERIAL |
| --- | --- | --- | --- | --- | --- |
| 1 | Motor | FC / AL | 15 | Impeller Nut O-ring | NBR/EPDM/VITON |
| 2 | Shaft Key | SUS | 16 | Impeller Nut | FRPP/CFRPP/CPVC/PVDF |
| 3 | Ceramic | FRPP/CFRPP/CPVC/PVDF | 17 | Front O-ring | NBR/EPDM/VITON |
| 5 | Vapor Seal | NBR/EPDM/VITON | 18 | Front Cover | FRPP/CFRPP/CPVC/PVDF |
| 8 | Main Body | FRPP/CFRPP/CPVC/PVDF | 43 | Lower O-ring | NBR/EPDM/VITON |
| 9 | Main Body Screw | SUS | 44 | Movable Flange | FRPP |
| 10 | Release Screw O-ring | NBR/EPDM/VITON | 45 | Upper O-ring | NBR/EPDM/VITON |
| 11 | Release Screw | FRPP/CFRPP/CPVC/PVDF | 46 | Flange Connecter | FRPP |
| 14 | Impeller | FRPP/CFRPP/CPVC/PVDF | | | |
DIMENSION DRAWING
MODEL

DIMENSION

KDH-50VK(P)-3

A

B

C

D

E

F

G

H

I

J

K

L

350

430

758

328

65

140

174

242

4

202

50

120

M

N

O

P

Q

R

S

T

U

V

W

154

200

156

66

16

185

222

260

222

260

15

KDH-50VK(P)-5

A

B

C

D

E

F

G

H

I

J

K

L

350

430

793

363

65

140

174

242

4

243

50

120

M

N

O

P

Q

R

S

T

U

V

W

154

200

177

66

16

185

222

260

222

260

15

KDH-65VK-7.5

A

B

C

D

E

F

G

H

I

J

K

L

345

429

864

435

80

149

189

263

8

285

65

139

M

N

O

P

Q

R

S

T

U

V

W

174

202

212

65

20

185

300

350

300

350

18

KDH-65VK(P)-7.5-H

A

B

C

D

E

F

G

H

I

J

K

L

345

429

864

435

80

149

189

263

8

285

65

139

M

N

O

P

Q

R

S

T

U

V

W

174

202

212

65

20

185

300

350

300

350

18

KDH-65VP-10-H

A

B

C

D

E

F

G

H

I

J

K

L

345

429

864

435

80

149

189

263

8

285

65

139

M

N

O

P

Q

R

S

T

U

V

W

174

202

212

65

20

185

300

350

300

350

18