Model No.: KDS Series
KDS Series
FEATURES

1. Pumps are cast precisely in stainless steel 316 so that the surface of pumps looks glossy.

2. For all kinds of acid/alkaline solutions, circulating and high temperature assistance.

3. Pumps are no damaged in dry running because of seal-less design, the pumps also are design
with vapor seal o-ring and diversion groove.

4. Dry vapor seal ensure to prevent pumps and bearings from being etched by chemical gas and
prolong the using lift of pump.

5. After the correction of dynamical balance, impellers are lower noise and vibrating rate.

6. The volume of pump is so small that it applies to inside and outside of tank.
MODEL INDENTIFICATION
| | |
| --- | --- |
| 1.MODEL: | KDS |
| 2.IN-OUTLET: | 40-1.5" 50-2" |
| 3.SPECIFIC WEIGHT: | VK-1.1 VP-1.4 |
| 4.POWER: | 1/2, 1, 2, 3, 5HP |
| 5.FREQUENCY: | 5-50Hz 6-60Hz |
| 6.RUBBER: | N-NBR E-EPDM V-VITON T-PTFE |
| 7.MATERIAL: | S-SUS316 |
SERIES SPECIFICATION
MODEL

CURVENO

IN-OUTLET(mm)

HP

FLOW(L/Min)

HEAD(M)

WEIGHT(kg)

IN

OUT

VK

VP

VK

VP

Frequency:50Hz

KDS-25VK-1/2
N
25
25
1/2
90
-
13
-
28
KDS-40VK(P)-15
O
40
40
1
240
210
13
11
30
KDS-40VK(P)-25
P
40
40
2
300
260
15
14
48
KDS-50VK(P)-35
Q
50
50
3
400
300
20
17
50
KDS-50VK(P)-55
R
50
50
5
480
420
28
22
55

Frequency:60Hz

KDS-25VK-1/2
n
25
25
1/2
80
-
14
-
28
KDS-40VK(P)-16
o
40
40
1
260
160
15
11
30
KDS-40VK(P)-26
p
40
40
2
300
260
17
14
48
KDS-50VK(P)-36
q
50
50
3
350
300
26
19
50
KDS-50VK(P)-56
r
50
50
5
500
450
28
25
55
PERFORMANCE CURVE CHART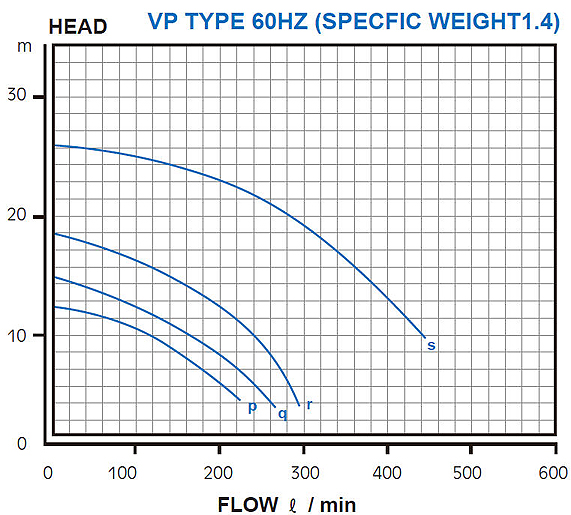 CONSTRUCTION
| NO | DESCRIPTION | MATERIAL | NO | DESCRIPTION | MATERIAL |
| --- | --- | --- | --- | --- | --- |
| 1 | Motor | FC / AL | 16-2 | Impeller Nut Packing | TEFLON |
| 2 | Shaft Key | SUS | 16-3 | Impeller Nut Washer | SUS |
| 4 | Vapor Seal O-ring | NBR/EPDM/VITON | 18 | Front Cover | SUS |
| 5 | Vapor Seal | NBR/EPDM/VITON | 29 | Vapor Seal Seat | SUS |
| 6 | Shaft Sleeve Screw | SUS | 30 | Shaft Sleeve O-ring | VITON |
| 7 | Shaft Sleeve | SUS | 31 | Main Body Gasket | EPDM/VITON/PTFE |
| 8 | Main Body | SUS | 32 | Flange Packing | EPDM/VITON |
| 9 | Main Body Screw | SUS | 33 | Flange Gasket | PTFE |
| 12 | Front Cover Screw | SUS | 34 | Flange | SUS |
| 14 | Impeller | SUS | 35 | Flange Fasten Bolt | SUS |
| 15 | Impeller Nut O-ring | NBR/EPDM/VITON | 36 | Impeller fixed sleeve | SUS |
| 16 | Impeller Nut | SUS | 37 | Impeller fixed sleeve O-ring | EPDM/VITON/PFA |
| 16-1 | Impeller Nut Spring Washer | SUS | | | |
DIMENSION DRAWING
MODEL
DIMENSION
KDS-25VK-1/2
A
B
C
D
E
F
G
H
I
J

235

300

536

236

25

64

78

53

12

175

K

L
M
N
O
P
Q
R
S
T

180

235

119

150

62

15

150

235

15

KDS-40VK(P)-1

A

B

C

D

E

F

G

H

I

J

238

305

539

234

40

91

120

51

12

175

K
L
M
N
O
P
Q
R
S
T

180

235

140

150

70

15

180

235

16

KDS-40VK(P)-2

A
B
C
D
E
F
G
H
I
J

238

305

539

234

40

91

120

51

12

175

K
L
M
N
O
P
Q
R
S
T

180

235

140

150

70

15

180

235

16

KDS-50VK(P)-3

A
B
C
D
E
F
G
H
I
J

336

410

741

331

50

103

130

53

16

2

04
K
L
M
N
O
P
Q
R
S
T

182

222

260

158

175

95

15

222

260

16

KDS-50VK(P)-5

A
B
C
D
E
F
G
H
I
J

336

410

778

368

50

103

130

53

16

234

K
L
M
N
O
P
Q
R
S
T

182

222

260

158

182

95

15

222

260

16