Model No.: KDV Series
KDV Series
FEATURES

1. Dry vapor seal can ensure to avoid motors and bearings from being etched by chemical gas. While a
pump is operating, chemical gas through pores between the extended boards and the frame of motor
is exhausted.

2. Because of the C-Clip, it can prevent the impeller from moving and loosing during the operation.

3. The in-outlet of pump can be extended so that it becomes more convenient to draw the chemical
solution from tank.

4. Pumps are produced with standardized models and the materials of pump body are chosen
depending on the mechanical solution (FRPP, CFRPP, CPVC, PVDF). The weight of pump compares
with others in the market is lighter. Moreover, it is assembled easily and safely.

5. With highly effective aluminum motor and insulation class F, vertical pumps apply in normal situation
and all kinds of environments.

6. Pumps can be operated in dry running without water.
MODEL INDENTIFICATION
| | |
| --- | --- |
| 1.MODEL: | KDV |
| 2.IN-OUTLET: | 32-1.25" 40-1.5" 50-2" 65-2.5" |
| 3.SPECIFIC WEIGHT: | VK-1.1 VP-1.4 |
| 4.POWER: | 1, 2, 3, 4, 5, 7.5, 10HP |
| 5.FREQUENCY: | 5-50Hz 6-60Hz |
| 6.RUBBER: | N-NBR E-EPDM V-VITON |
| 7.MATERIAL: | A-CPVC P-PVDF |
SERIES SPECIFICATION
MODEL

CURVENO

IN-OUTLET(mm)

HP

FLOW(L/Min)

HEAD(M)

WEIGHT(kg)

IN

OUT

VK

VP

VK

VP

Frequency:50Hz

KDV-32VK-1/2
m
32
1/2
100
-
7
-
18
KDV-32VK-15
n
32
1
100
-
12.5
-
20
KDV-32VK-25
o
32
2
200
-
15
-
25
KDV-40VP-35
p
40
3
200
-
20.5
-
32
KDV-40VK-45
q
40
4
250
-
24
-
35
KDV-40VK-55
r
40
5
300
-
28.5
-
40
KDV-50VK-7.55
s
50
7.5
400
-
28
-
60
KDV-50VK-105
t
50
10
400
-
38
-
72

Frequency:60Hz

KDV-32VK-16
N
32
1
100
-
10.5
-
20
KDV-32VK-26
O
32
2
200
-
14.5
-
25
KDV-40VP-36
P
40
3
200
-
20
-
32
KDV-40VK-46
Q
40
4
250
-
23.5
-
35
KDV-40VK-56
R
40
5
300
-
28.5
-
40
KDV-50VK-7.56
S
50
7.5
400
-
28
-
60
KDV-50VK-106
T
50
10
400
-
37
-
72
PERFORMANCE CURVE CHART
CONSTRUCTION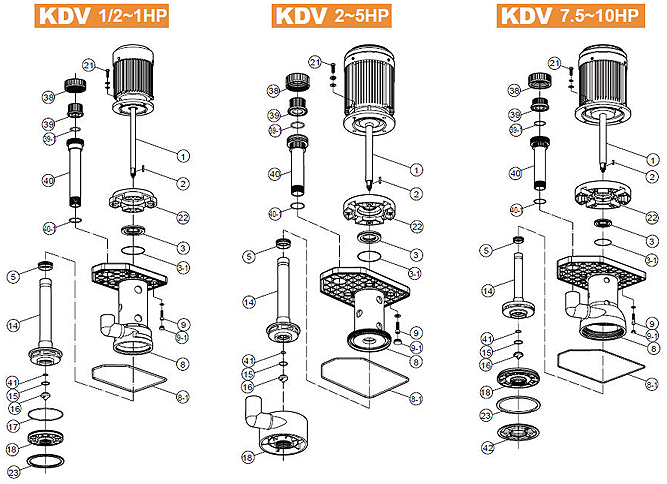 | NO | DESCRIPTION | MATERIAL | NO | DESCRIPTION | MATERIAL |
| --- | --- | --- | --- | --- | --- |
| 1 | Motor | FC / AL | 21 | Motor Screw | SUS |
| 2 | Shaft Key | SUS | 22 | Motor Spacer | FRPP |
| 3 | Ceramic | CERAMIC | 23 | C-Clip | CPVC/PVDF |
| 5 | Vapor Seal | NBR/EPDM/VITON | 38 | Discharge Nut | PP/CPVC/PVDF |
| 8 | Main Body | CPVC/PVDF | 39 | Discharge Union | PP |
| 9 | Main Body Screw | SUS | 39-1 | Discharge Union O-ring | NBR/EPDM/VITON |
| 14 | Impeller | CPVC/PVDF | 40 | Discharge Pipe | PP/CPVC/PVDF |
| 15 | Impeller Nut O-ring | NBR/EPDM/VITON | 40-1 | Discharge Pipe O-ring | NBR/EPDM/VITON |
| 16 | Impeller Nut | CPVC/PVDF | 41 | Retaining Ring | SUS |
| 17 | Front O-ring | NBR/EPDM/VITON | 42 | Front Cover Pressing Plate | PP/CPVC/PVDF |
| 18 | Front Cover | CPVC/PVDF | | | |
DIMENSION DRAWING
MODEL

DIMENSION

KDV-32VK-1

A

B

C

D

E

F

G

H

I

J

K

L

270

25

581

244

32

60

165

154

42

156

48

148

M

N

O

P

Q

R

S

T

U

V

198

99

75

141

100

298

120

85

35

10

KDV-40VK-2

A

B

C

D

E

F

G

H

I

J

K

L

276

25

654

309

40

58

158

187

44

195

50

179

M

N

O

P

Q

R

S

T

U

V

240

119

90

165

120

350

155

105

40

10

KDV-40VK-3

A

B

C

D

E

F

G

H

I

J

K

L

276

25

654

309

40

58

158

187

44

195

50

179

M

N

O

P

Q

R

S

T

U

V

240

119

90

165

120

350

155

105

40

10

KDV-40VK-4

A

B

C

D

E

F

G

H

I

J

K

L

275

25

691

345

40

53

153

208

46

195

50

220

M

N

O

P

Q

R

S

T

U

V

280

140

115

180

145

390

115

40

9

KDV-40VK-5

A

B

C

D

E

F

G

H

I

J

K

L

275

25

691

345

40

53

153

208

46

195

50

220

M

N

O

P

Q

R

S

T

U

V

280

140

115

180

145

390

115

40

9

KDV-50VK-7.5

A

B

C

D

E

F

G

H

I

J

K

L

312

35

766

365

50

56

175

249

54

260

65

280

M

N

O

P

Q

R

S

T

U

V

342

160

140

231

170

472

135

45

12

KDV-50VK-10

A

B

C

D

E

F

G

H

I

J

K

L

312

35

766

365

50

56

175

249

54

260

65

28

0

M

N

O

P

Q

R

S

T

U

V

342

160

140

231

170

472

135

45

12